The Saint car at the Bristol Classic Car Show April
A visit from 'The Saint' on the Volvo Enthusiasts Club stand
The 34th Bristol Classic Car Show – 20th & 21st April 2013
This was without doubt the best Bristol Classic Car Show so far and our Club Stand featured 2 Jensen built P1800's – a very rare sight considering there under 20 on the road in Britain today and also Colin Hughes's 'all singing and dancing' 760 turbo Lowliner Estate.
Michele Saunder's 1962 P1800. A very interesting example of the model, which was originally purchased in the UK but spent the first 19 years of its life in Malaysia owned by a doctor. He returned it to the UK in 1982 and spent further 9 years on the road before being laid up for a further 11 years. The Car made its first appearance at the Bristol Show on our stand in 2011 following a complete restoration.
Purchased by the present owner in 2012, the car has had some further restoration, which includes an unleaded Cylinder Head Conversion by Cornwall Engine Services and other work by Brian Gue of Amazonia.
Joining the P1800's was Colin's Volvo 760 Turbo Lowrider Estate, which caused a lot of interest, particularly with the younger visitors when standing on only 3 wheels or dancing to the on board music! The Lowrider project was started in 2003 by Russ Venril (Birmingham) and continued by Ray Mercer (Bury) in 2008.
The hydraulic system is by Pro-Hopper and cost £2500 when purchased in 2003. It can lift the body 8 inches at the front and 10 inches at the rear. Each axle and each wheel can be independently operated, which enables the car to stand and be driven on 3 wheels. The system operates through two 36 volt pumps, powered by six 12 volt 110 amp heavy duty batteries in the rear, the batteries were replaced in 2010 for £437.10 (trade price) and should last for 3 years if treated with respect and charged and handled correctly.
Paintwork is metal flake PF 005 Orion Cerise and AF 0111 Holo Silver and was undertaken by Dragon Art in Birmingham
The 800 watt sound system is loud and can be linked to the interior and under floor lighting system.
The 14" chrome spoke wheels were hand built at a cost of £1600 and need regular and through cleaning.
Mechanically it is the tried and tested 4 cylinder Volvo B230 ET engine with a few modifications, coupled to a 4 speed AW71 automatic gearbox. Engine produces 182 bhp The modifications have added some 250 kg to it and it now weighs 1710 kg (3770 lbs), about 1.65 tons in old money
Current mileage is 166,000 and we have full history and documentation from new.
The car is used on the road and currently and does not have a garage due to other projects .Planned enhancement is upgrade the charging process to maintain and recharge the lifting system using the existing alternator, although we do not know how practical this concept is, any ideas are welcomed.
As promised at last year's Classic and the Restoration show, Kevin returned with his 'original' Roger Moore TV Saint Car aka ST 1, now complete following an epic 6 year restoration and it was awarded 'Highly Commended. This for those who have not yet seen the car is the actual car used by Roger Moore in the very first episode of The Saint – The Talented Husband.
Next year's Club Stand is already confirmed, so if you would like to come along and help on the Sand or have your Volvo considered for display, why not contact Kevin with your details. Next year the Show will take place June, not April due to building work on the Showground .
Many thanks to all those Members who came along and gave their support and to all those who helped build, man and brought along their cars for our display.
On the stand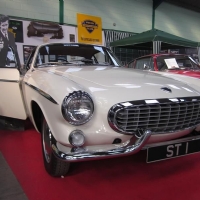 TV's The Siant 71 DXC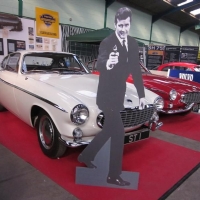 ST1 THE SAINT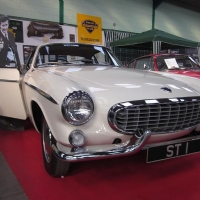 Crime fighter at rest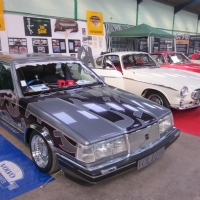 Club cars on display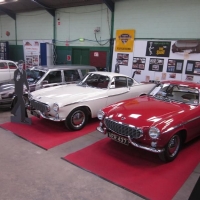 Bristol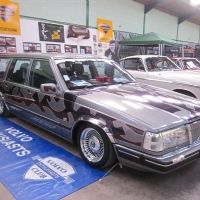 760 Lowrider - Colin Hughes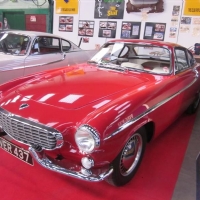 P1800 of Michele Saunders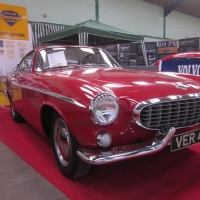 Magnificent 'Vera'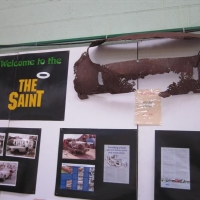 Original front panel from 71 DXC
Great Lineup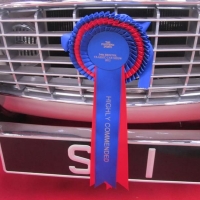 Winner 'Highly Commended'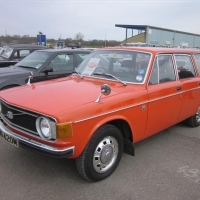 Very nice 1974 Volvo 145 in the Car park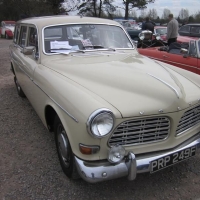 Volvo 120 Estate in the car park which was for sale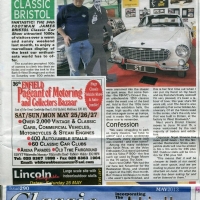 Classic Motor Monthly review of Bristol Show 2013