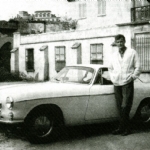 Roger Moore with 71DXC the original Saint car at Elstree Studios circa 1962.
(please note all historical information on this website is reproduced in good faith from various resources if any are incorrect or not given due credit please contact me however no responsibility can be taken for any statements quotes references or links.)
After 40 years back on the road after restoration and MOT! Please see here in News >>
Founder of the Volvo Enthusiasts Club www.volvoenthusiastsclub.co.uk

and now responsible (with help from friends, club members and sponsors) for the rebirth of 71 DXC - The Saint.

A passion for classic cars and Volvos in particluar led to a bit of a quest to track down one of the much sought after P1800s from The Saint TV series as used by (now) Sir Roger Moore.

Please see this interesting article from September 1997 Classic & Sportscar a feature about using my P1800 HAB already with 380,000 miles on so felt just about run in and time for a trip from Land's End to John O'Groats in 17 hours. Click here >>

---

How it all came about in 1962

Early History:


In the Spring of 1962 Lew Grade of ATV Television held a Press Conference where he launched 'The Saint' Series with actor Roger Moore, who would play the famous Simon Templar in a series of 26 one hour shows (news to Roger Moore who had been contracted, as he believed, for only half hour episodes).

The famous Simon Templar, like other dashing TV/Film hero's e.g. Batman, James Bond etc, required a recognisable form of transport and ATV's first choice was a white 'E' type Jaguar - which had been launched at the Geneva Motor Show the previous year. Jaguar were approached to lend the TV company a car in lieu of advertising but in view of the already high demand for the model in the USA and being unable to keep up with current production requirements they declined the offer, suggesting that they did not require the publicity the series would provide. It is rumoured that Roger Moore even offered to personally purchase a MK10 Jaguar to use in the series, as the best supply date for an 'E' type was over 2 months.


Search for an alternative car was on and again it was Roger Moore who came to the rescue suggesting that the company look at the new Volvo P1800, which had only just been launched in RHD form on the UK market.


Within a week a white Volvo P1800 was delivered to ITC from a London Dealership – Reg: No: 71 DXC (Plate 'ST 1' was placed over the cars ordinary number plate only while filming) and it is believed that they were invoiced full price for the car. As no white P1800 was available (unbelievable as the cars were being produced at Jensen Motors Ltd, West Bromwich in England) it is said that a car had to be air freighted back from Sweden to fill the order at such short notice.


The Jensen built P1800 - 71 DXC appeared in the opening sequences of the very first episode "The Talented Husband" and was used in many of the original 26 episodes where its owner, The Saint, could be seen visiting places as far afield as Germany, France and even the Bahamas (how the car got there was not explained). In fact due to financial constants the car never left the British Isles, it was all tricks of the camera.


With production of the 1800 moving to Sweden in 1963 Volvo, in 1964, provided ITC with a new replacement car, an 1800S – Reg. No: 77 GYL. In order to provide continuity in the series the later 'V' Red Hub Caps were replaced with the original 'Jensen Caps' from 71 DXC. Both cars can be seen in early 1964 episodes but if you look carefully there are some scenes where the car was still fitted with its original Red 'V' caps.


71 DXC was finally fully replaced by 77 GYL in late 1964, but the original car was used for publicity of the Series and driven by Roger Moore as everyday transport.


The 'Original' TV Saint Car 71 DXC has undergone a full restoration and was unveiled at the Classic Motor Show 2012 by Malcolm Christopher, a member of the original crew who produced the TV Series, 'The Saint'

---

71DXC in 1962

The Original & Famous Roger Moore Saint Car 71 DXC aka ST 1

'Return of the Saint'

It is 1962. The black and white silence of the half timbered village of Cookham is broken by the barking exhaust note of Simon Templar's white Volvo. He tersely sounds the horn at an elderly pedestrian slow to clear the road before turning left across the bridge and into the car park of the Ferry Inn. He had planned a weekend of golf and catching up with blonde bombshell Adrienne. Instead, he unearths an unsavoury attempted murder by poisoning. This opening episode The Talented Husband ushered in ITC's new drama The Saint.

Week by week Simon Templar would dispense justice to crooks, cads and bounders assisted by an attractive selection of female assistants. Throughout these adventures his one constant companion was his dependable Volvo sports car.

Click image to see various period publicity stills including Roger Moore with '77 & NUV'

---
ITC's THE SAINT
Simon Templar crime fighter!