The Saint's Volvo on show at the NEC last year with the VEC
Pride of place on VEC stand
71 DXC was again at the Classic Motor Show 15th-17th November, 2013, at the NEC Birmingham pride of place on the Volvo Enthusiasts Club.
NEC CLASSIC CAR SHOW 2013 WHAT A WEEKEND!
Or
'How to get 8 cars, one Caravan and 2 Volvo Bikes onto a Postage stamp!'
Every member of the club display team have agreed that the event held this year has to be the most successful we have had for years.
The superb cross section of cars we were able to drum up included a rare PV445 Convertible (Kevin Price), a PV210 Duett and 221 Amazon estate (Tony and Gillian Whitton), a 131 Amazon (Robert Whitton), a late model 244 (Robert Hughes), an 1800E (Colin and Pauline Atkinson) and an 1800ES (Ian Dunlop) – centre stage was the fabulous 1962 Jensen built 1800 used in the first series of "The Saint" and owned by our illustrious Founder, Kevin Price!!!
The cars were joined by a gloriously Green classic 2-berth 1973 Carlight Caribbean caravan (Gillian Whitton). And two Volvo bikes – made from recycled plastic (Colin Hughes).
Along the "back wall" were positioned the Light Blue Duett (a restoration project covered in years of soot and snail trails) and the Carlight Caribbean (also a major snail trailed restoration project) – the Carlight caravan provided a dumping ground for excess bits, but also drew in hoards of fans of classic caravans, along with those just fascinated by the colour (it's know as The Jolly Green giant – and not just for the green algae growing on the roof!). The Turquoise 1800ES and the two Volvo bikes finished the rear line up.
On the front left hand side of the stand the White PV convertible was being pulled along by a team of reindeer and adorned with Christmas parcels beautifully wrapped up by Molly Shaw, with lots of tinsel and a rather grim looking Father Christmas who we all blamed for the three little children leaning against the cars crying – or hiding?
Next to the convertible sat the Saint Car with 'Roger' - which was causing quite a stir. Many visitors to the stand had come purely to see this epic restoration project which had just been featured in Practical Classics.
A monumental journey for Kevin Price from finding THE car in 1991, through years negotiating to buy it and then followed by the sixteen years of blood, sweat and tears that have culminated in a testament to Kevin's determination to find and preserve this iconic car for posterity.
Next to the Saint Car sat the Light Blue 221 Amazon estate; body restored in 2012 and evoking fond memories to many of the shows visitors.
In line next was the California White 131 Amazon; restoration almost finished, it had been hoped to MOT and drive the car up to the event but time ran out and, with just the brakes(!) left to do, it travelled on a transporter!
The Mid Blue 244 was next and so many visitors could remember being driven in one as children.
One young lady spending ages photographing every angle on the car revisiting her childhood in her Dad's 240.
On the front right hand side sat the Red 1800E; this is probably the best E in the country and as always it was immaculately presented.
Thanks must go to John Kemp for giving up his weekend to come and help on the stand, his knowledge of the Amazon model (as well as others) was invaluable. Also thanks to 'Eric' or new tea urn who was kept very busy all weekend!
From the opening of the show at 9.30 am on Friday to close of play at 5.30 pm on Sunday there was a constant stream of visitors anxious to talk about the cars on the stand and the caravan, to tell us about their own classic loves or to say that their Dad "had one of those". Many were on the lookout for spares for projects they were working on themselves, others looking for cars to buy – Robert Hughes reckoned he could have sold the entire stand (including the caravan) several times over!
Our re-launched magazine was collected from the printers in time to be handed to prospective new members and we also had all of the available membership forms snapped up within the first two days. Classic Volvos are certainly attracting a renewed enthusiasm and the Enthusiasts Club will undoubtedly benefit from the interest shown.
Stand breakdown commenced immediately after the show and many of the cars left that night, with the remainder being cleared the following morning along with the Club carpet tiles and fencing. Grateful thanks must go to Albe George who helped transport of Kevin's Saint Car to the show plus the stand breakdown, with the loading of the van and then drove it back to Bewdley; a great help and a great helper – thank you Albe.
It is hoped that we will have an even bigger stand next year when we will be celebrating our 25th Anniversary and Kevin is aiming to have one car for each year of the Club's existence. He will be looking for cars that will reflect the variety that exists within the Club and if you would like your car to be featured on the stand – get in touch! Entry passes are provided for cars, along with wristbands for drivers and one passenger.
Members who have cars that are included on the stand must be prepared to spend most of the weekend with their car and to talk to visitors, answering questions about their car and their particular model. Cars will also need to be left unlocked so that interiors can be viewed - but only entered with the owner's consent. Breaks are permitted to allow attendees a chance to see the show, eat – or go to the lavatory!
If you are still interested get in touch with Kevin Price, contact details in the front of the magazine or on the Club website.
2014 promises to be an even greater spectacle! Come and join in, we always love to welcome true Volvo Enthusiasts.
Here is a great article in December Practical Classics - pdf click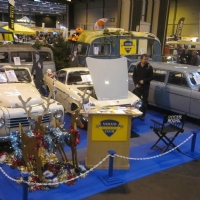 VEC club stand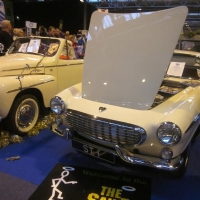 ST1 at the NEC 2013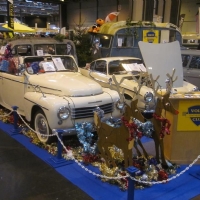 Kevin Price 445 conv & ST1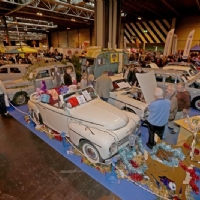 VEC club magazine cover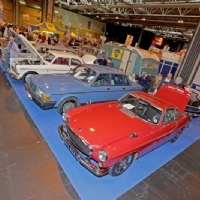 photo by Richard Dredge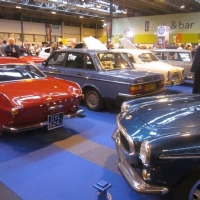 1800E /1800ES 244 & Amazon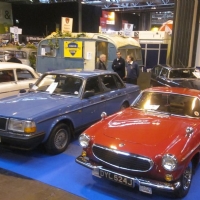 VEC club cars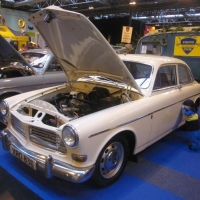 Robert Whitton 120 'Amazon'
The VEC
Gillian & Tony Whitton - 120 estate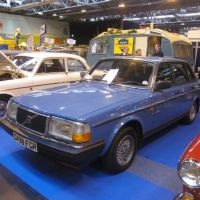 244DL of Robert Hughes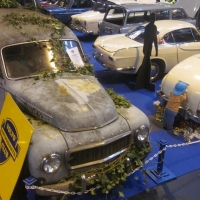 'Barn find' 544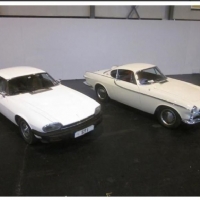 Double Vision ST1's XJS & 71 DXC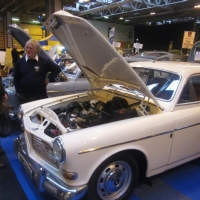 A lot of interest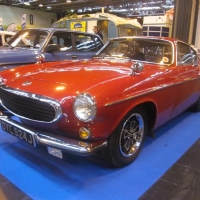 Colin & Pauline Atkinson 1800E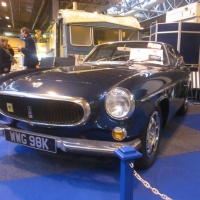 Ian Dunlop 1800ES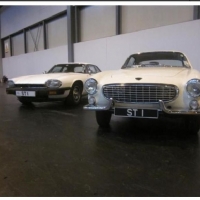 Two TV stars together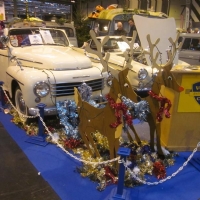 Santa Volvo Sleigh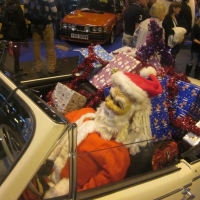 Santa in his 445!