ST1 at new Volvo dealership
Lincoln new Volvo showroom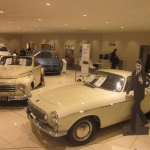 THE SAINT GOES TO LINCOLN
-Along with a PV and Amazon!
Immediately after the clearing of the Club stand at the NEC on 18th November, I was once again in the privileged position of sitting behind the steering wheel of ST 1 (aka 71 DXC) – the ORIGINAL 1962 SAINT CAR. This time I had the whole drive up to Lincoln to myself – how lucky am I!
When Club Founder, Kevin Price, was asked to take The Saint Car and a couple of others to Stoneacre Volvo in Lincoln, he very generously asked me to drive the 1800 to and from the event, Kevin then drove his PV445 Convertible and my Husband Tony drove our 221 Amazon estate.
The rather wet drive up was uneventful until Pixie (the Amazon) developed a fuel blockage just five miles from the dealership! A new fuel filter and a blow through got the car to our destination. The 1800 was, of course, faultless.
Stoneacre were celebrating the opening of their brand new showroom with an evening event that was attended by many Volvo UK Directors, as well as invited guests of their car buying clientele. Canapes and wine were on offer and the evening ended with an impressive fireworks display.
It is some years since I've attended a dealership launch of any sort and I found it a very different experience now. Very few of the party goers showed any interest in the Classic Cars and had no idea of the 1800's pedigree, even the dealership staff were baffled by older mechanicals! It was hard having to bite my tongue when guests leant on car wings. The Saint Car wasn't immune from such treatment either, one couple taking drinks into the front seats! I didn't see that or I would have released my tongue and lashed with it.
The return was interesting too, the convertible ran out of fuel and when pulling off the M69 motorway we discovered that there was no access back onto it!! A hair raising trip through Nuneaton and other parts of the Midlands finally brought us out onto the M6 and then back to Bewdley.
Convertible and Saint Car safely ensconced in their garaging Tony and I headed back to Suffolk, Pixie camping out in temporary accommodation for a couple of nights.
Thank you Kevin for giving me the chance to drive your beautiful car again, it's always such a pleasure.
Gillian Whitton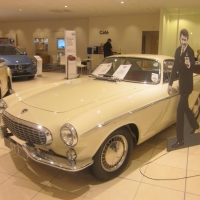 Pride of place at new showroom
Gillian & Tony Whitton 120 estate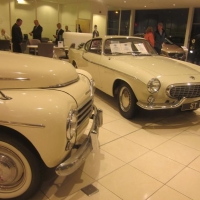 ST1 with PV convertible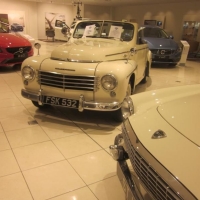 Showroom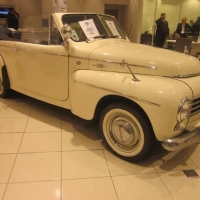 PV444S convertible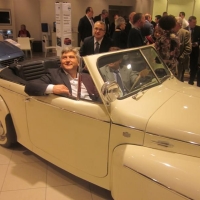 VOLVO UK MD Nick Connor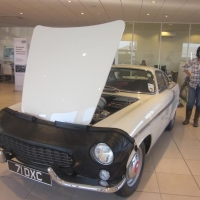 Wearing bra for trip back home